RideBuzz
Corporate Social Responsibility (CSR), Sustainability and Cause News & Media
RideBuzz
Primary tabs
Flexible Media Releases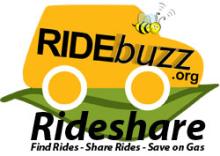 Innovating Ridesharing Locally and Nationally!
Ridebuzz is a leading provider of ridesharing technology and services, specializing in cost-effective technology and adoption campaigns for your organization, community, and region.  Ridebuzz is home to one of the world's largest online rideshare communities.
Ridebuzz has launched services for over 200 major events, venues and organizations (including municipalities, non-profits, & businesses).
Ridebuzz provides organizations & events with a viable service to reduce their carbon footprint - Innovating Ridesharing Locally and Nationally! Ridebuzz is an Amherst, MA based 501 (C) (3) non-profit organization committed to advancing ridesharing technology and cost-effective community oriented solutions.
Contact us now so we can help your organization share rides and reduce emissions.