Society for Organizational Learning
Corporate Social Responsibility (CSR), Sustainability and Cause News & Media
Society for Organizational Learning
Primary tabs
Campaigns
The greatly expanded effort centers on a new, $250 million financial commitment planned over 5 years. AT&T Aspire will build on that commitment by using technology to connect with students in new and more effective ways, such as with interactive gamification, Web-based content and social media...
Flexible Media Releases
Society for Organizational Learning ON SOCIAL MEDIA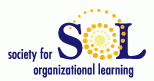 Who We Are
SoL is an intentional learning community composed of organizations, individuals, and over 30 local and topical SoL communities around the world. A not-for-profit, member-governed corporation, SoL is devoted to the interdependent development of people and their institutions in service of inspired performance and meaningful results. Peter Senge is the Founding Chair.
What We Do
Since its inception in 1997, SoL has become a partner of choice for many multinational for-profit and non-profit organizations as well as government agencies, in particular because of our holistic approach to the five disciplines of organizational learning. Specifically, SoL
Builds capacity, not dependency, for effective action in individuals, teams, and organizations in a way that is self-sustaining, replicable, and continuously evolving.

Co-creates learning processes with our clients that are grounded in real work and that help the clients develop new ways of thinking and acting over time.

Provides a thoroughly tested set of concepts, tools, methods, and processes that enable, accelerate, and diffuse learning to ensure breakthrough results.