Sunny Delight Beverages Co.
Corporate Social Responsibility (CSR), Sustainability and Cause News & Media
Sunny Delight Beverages Co.
Primary tabs
Flexible Media Releases
Sunny Delight Beverages Co. ON SOCIAL MEDIA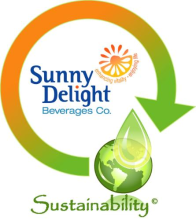 Sunny Delight Beverages Co. is one of the fastest growing, leading producers of juice-based drinks in North America.  It is dedicated to helping moms improve the vitality of their families by creating and marketing more wholesome beverages.  The company's brands include SunnyD citrus punch, Fruit Simple fruit smoothies, Fruit2O flavored waters, Bossa Nova "superfruit" beverages, Veryfine 100% juices and juice drinks, Elations dietary supplement for joint health, and Crystal Light ready-to-serve beverages.   All SDBC plants have achieved zero waste to landfills.  For more information, log onto ww2.sunnyd.com/company/overview.shtml.