Tiller, LLC
Corporate Social Responsibility (CSR), Sustainability and Cause News & Media
Tiller, LLC
Primary tabs
Campaigns
Despite a shaky economy, Americans are committed to giving back, according to the 2009 Tiller Social Action Survey.  In fact, 97% said it's at least somewhat important for Americans to contribute to the greater good -- virtually the same level (98%) who responded that way in the original...
Tiller, LLC ON SOCIAL MEDIA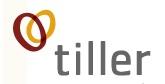 Tiller's mission is to build our clients' businesses by identifying and leveraging the social value inherent in their products and services in a way that enhances their reputation, attracts customers and improves the human condition. At Tiller, we also believe it is essential to conduct business according to a guiding set of principles. These are the values by which we try to live and expect to be judged.