3BL Media Webcast Series | Trends in CR and Sustainability Reporting
Primary tabs
3BL Media Webcast Series | Trends in CR and Sustainability Reporting
Wednesday, April 4 at 12:30pm ET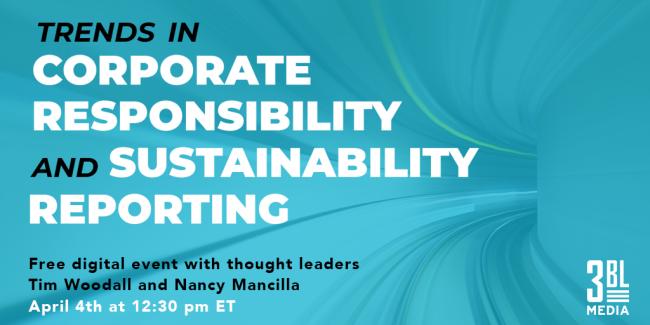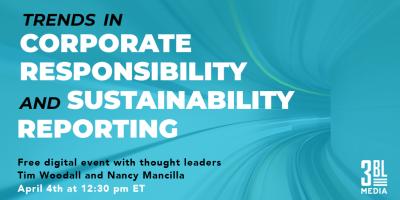 tweet me:
Join @3BLMedia, #ESG reporting strategist @timwoodall and CEO of @ISOSgroup @n_c_mancilla as they share observations on trends in #CR and #sustainability reporting http://bit.ly/2G1A017 #webinar 4/4 at 12:30pm ET
Friday, March 23, 2018 - 9:10am
Join 3BL Media, ESG reporting strategist Tim Woodall and CEO of North America's leading provider of sustainability management services Nancy Mancilla as they share their observations on how corporate reporters are gearing up for 2018 and beyond. Webcast begins at 12:30pm ET on Wednesday, April 4, 2018. 
About 3BL Media
3BL Media is the world's leading communications partner for purpose-driven organizations. Through content distribution, multi-media promotion and hands-on learning experiences, we connect organizations to an unrivaled network of sustainability professionals, journalists, bloggers, investors, academics, policymakers and influencers who are passionate about engaging on topics like education, environment, community involvement, supply chain and circular economy, volunteering and the Sustainable Development Goals.
More From 3BL Media, LLC
Wednesday, March 20, 2019 - 10:00am
Monday, March 18, 2019 - 8:00am
Wednesday, March 13, 2019 - 8:00am