ABCs and 529s: Finance Lessons Offer Hope for College
Primary tabs
ABCs and 529s: Finance Lessons Offer Hope for College
A single father now has a financial plan to help his young son attend college — an accomplishment he was never able to achieve himself — thanks to the Focus on College program from United Way and Wells Fargo.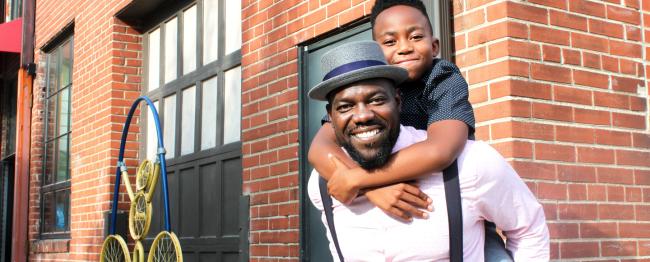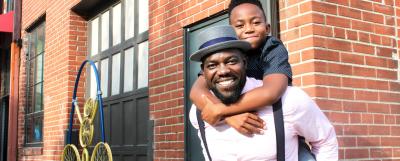 tweet me:
ABCs and 529s: Finance lessons offer hope for college. @WellsFargo. @UnitedWay. http://bit.ly/2vNdRPw
Thursday, July 27, 2017 - 1:00pm
Jesse Swanagan didn't know what to expect when he walked into his son's charter school in St. Louis three years ago.
After all, his son Jesse III was just a kindergartener; college was the furthest thing from his mind.

But something happened that night at City Garden Montessori School. Wells Fargo Advisors was hosting a college savings workshop for low- to middle-income families. And, by the end of the night, Swanagan had taken action to help his son achieve something he'd never achieved himself: a college degree. He opened a state-sponsored college savings plan for his 6-year-old son, and began depositing money from each paycheck.

Swanagan's action is courtesy of the Focus on College program that Wells Fargo Community Relations launched in 2014 with the United Way of Greater St. Louis. The program is delivered at six schools in neighborhoods with high poverty rates that also stand out for their academic rigor and high level of parent engagement. At Family Finance Nights, Wells Fargo volunteers use the company's Hands On Banking® curriculum to teach families banking, saving, and money management basics.

Attendees also learn how to open a college savings account appropriate for their situation. Wells Fargo Advisors matches up to $250 of the amount saved during the school year for college, and in total awards $30,000 in scholarships and grants to the 129 children enrolled in the program at an annual celebratory dinner.

Swanagan spoke at this year's dinner. The single dad told the crowd about all the small steps he's taken to save for college: cutting back on Christmas gifts, renting movies instead of seeing them in the theater, and cutting Jesse III's hair himself. The savings go into the state-sponsored plan, which he and his son check regularly.

Swanagan, who does general contract renovation work for businesses and homes, said his focus on saving gives him hope.

"We have time to make a difference," he told fellow parents in the audience. "Just save a little here and save a little there. As years go on, we've created a path for these kids to actually have a chance."

Since the Focus on College program began, Swanagan and 299 other families have saved nearly $140,000 toward their children's post-secondary education.

"We wanted to create something that mattered," said Desiree Coleman, community relations consultant at Wells Fargo Advisors who designed the program. "We wanted to make savings real and obtainable, especially for low-income people. We wanted them to see that savings is possible."

What it takes to make a difference

Children with even a small amount of savings in a college savings account are three to four times more likely to attend college than those without the accounts, said Jason Purnell, assistant professor at Washington University's Brown School of Social Work, citing a 2013 study from the university. The children are also three to four times more likely to graduate and earn degrees, he said.

"What we find in the research is it's not so much the amount in the account," Dr. Purnell said. "It's the existence of the account."

Family Support Specialist Chrissy Callison is seeing that impact at City Garden Montessori.

"There's a sense of confidence about the future among our parents," she said. "They have really high hopes and dreams for their kids. They feel good there's going to be support in helping their families get to higher education and be successful in higher education."

Swanagan believes Jesse III, who is now nine, is on the right path. He sees the way his son writes and thinks and loves to create. They part each day with a secret handshake at the school door.

"Who'd ever heard of a third-grader talking about college to their cousins while playing with Legos?" Swanagan said.

As for Jesse III, he is already thinking beyond college: "I want to be an architect."

Swanagan grew up in a poverty-stricken neighborhood, where he had little guidance when it came to his education. After graduating high school, he took a few classes at a community college, but didn't earn a degree. No one expected him to.

"People would have good intentions but no direction," he said. "They just didn't know."

That's why Swanagan shares what he learned on Family Finance Night with friends, family, and even strangers. Without the Focus on College program, he figures he wouldn't have started saving for college until Jesse III reached high school.

"It was the beginning of the change," he said. "This sets in stone that he's going to college, rather than wishful thinking."
Resources
Jesse III, center, has a better chance of getting a college degree now that his dad, Jesse Swanagan, has opened a 529 college savings account for him. (YouTube Video: 3 minutes)
Keywords:
Education
| Financial Literacy | Focus on College program | Higher Education Access | Philanthropy & Cause Initiatives | Wells Fargo
More From Wells Fargo & Company
Wednesday, September 19, 2018 - 9:00am
Tuesday, September 18, 2018 - 3:00pm
Tuesday, September 18, 2018 - 9:00am