Be a Part of Building the Pro Bono Movement
Primary tabs
Be a Part of Building the Pro Bono Movement
Final days to Invite Your Nonprofit Partners to Take the Taproot Foundation's Annual Survey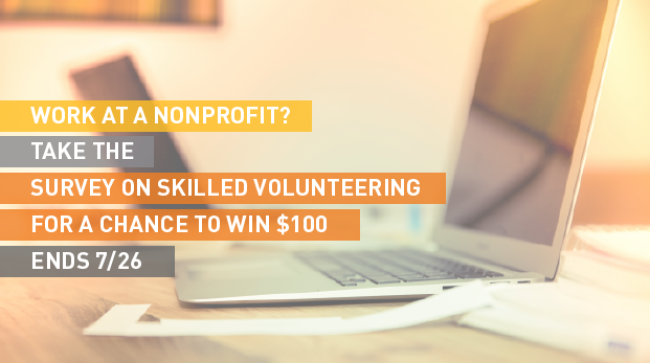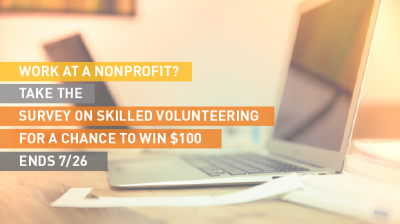 tweet me:
Final days to invite your #nonprofit partners to take @taprootfound's annual survey! http://bit.ly/2ufGAee closing July 26 #CSR
Wednesday, July 19, 2017 - 11:05am
Each year, the Taproot Foundation conducts a nonprofit survey to get a pulse on the field of skilled volunteerism. Insights from last year's survey found 95% of nonprofits reporting that pro bono service improved their organization's effectiveness.
Do you work with nonprofits through your CSR programming? Are you exploring employee engagement programming that can make an impact on your communities?
>>INVITE YOUR NONPROFIT PARTNERS TO TAKE TAPROOT'S SURVEY<<
Deadline for survey: July 26, 2017
Want to be notified when results of the 2017 State of Pro Bono Service Survey are released? Sign up here.
The Taproot Foundation, a national nonprofit, connects nonprofits and social change organizations with passionate, skilled volunteers who share their expertise pro bono. Taproot is creating a world where organizations dedicated to social change have full access—through pro bono service—to the marketing, strategy, HR, and IT resources they need to be most effective. Since 2001, Taproot's skilled volunteers have served 4,600 social change organizations providing 1.5 million hours of work worth over $160 million in value. www.taprootfoundation.org
Keywords:
Research, Reports & Publications
| Business Surveys | Corporate Social Responsibility | Non-Profits | Philanthropy & Cause Initiatives | Pro Bono | Skills-Based Volunteering | Social Change | Social Impact & Volunteering | State of Pro Bono Service Survey | Taproot Foundation
More From Taproot Foundation
Tuesday, October 16, 2018 - 12:45pm
Thursday, October 11, 2018 - 11:30am
Wednesday, October 10, 2018 - 12:30pm