Dallas Mayor Mike Rawlings Kicks Off 11th Year of Mayor's Intern Fellows Program to Provide Summer Internships for Dallas Public and Charter High School Students
Primary tabs
Dallas Mayor Mike Rawlings Kicks Off 11th Year of Mayor's Intern Fellows Program to Provide Summer Internships for Dallas Public and Charter High School Students
Mayor Rawlings urges companies to sign up by March 15 so more Dallas teens – most of whom will be the first in their families to attend college – can experience invaluable paid internships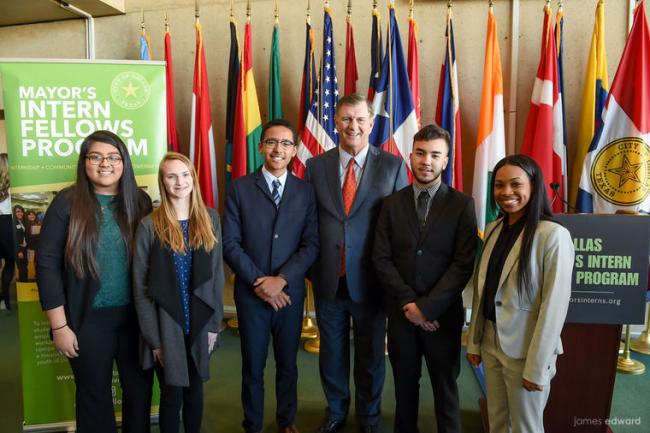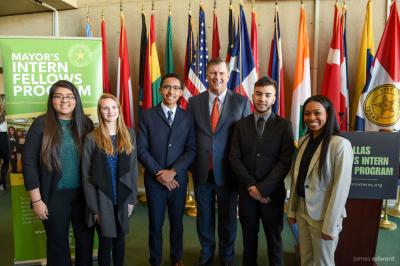 tweet me:
.@AllianceData is once again a supporter of #Dallas Mayor @Mike_Rawlings' #Intern Fellows program for public and charter school #students via @TheDallasWeekly
Summary
It might only be January, but high school students in Dallas are getting ready for summer. Their summer internships that is. Each year, the Dallas Mayor's Intern Fellows Program offers high school students real-world experience at some of Dallas's top companies and nonprofits. Alliance Data has been a proud support of this program since 2012, and will continue to sponsor interns as well as the Intern Fellows Training Sponsor, a three-day intense training session for interns - including Microsoft Office and leadership training - before their summer positions begin.
 
Monday, January 29, 2018 - 9:55am
Urging businesses and nonprofits to sign up by March 15, Dallas Mayor Mike Rawlings today kicked off the 11th year of the Dallas Mayor's Intern Fellows Program with an aggressive campaign to increase the number of businesses providing eight-week paid internships to Dallas public and charter high school students this summer. Joined by dozens of employers who have provided internships, Mayor Rawlings asked the business community to dig deep and invest in "our youth and the future of our city" so that more high school students can take advantage of these invaluable real-world internships. He also reminded high school students that their registration deadline to apply is Jan. 31.
"Businesses ask me all the time 'What can we do?' and my first response is to sign up for the Mayor's Intern Fellows Program," said Mayor Rawlings. "There is no greater contribution a city can make than educating our children, and the Mayor's Intern Fellows Program is a great way for public high school students to make the connection between a college education and great career. I truly appreciate the businesses that step up each year to invest in our youth and future workforce."
More From Alliance Data
Wednesday, January 16, 2019 - 11:10am
Tuesday, November 20, 2018 - 9:00am
Thursday, November 1, 2018 - 10:40am