Golfers Tee Off in De Beers Group Tournament
Primary tabs
Golfers Tee Off in De Beers Group Tournament
Top golfers from three South African countries have competed in a tournament sponsored by the Debmarine Namdeb Foundation to the tune of N$200,000 (US$15,500).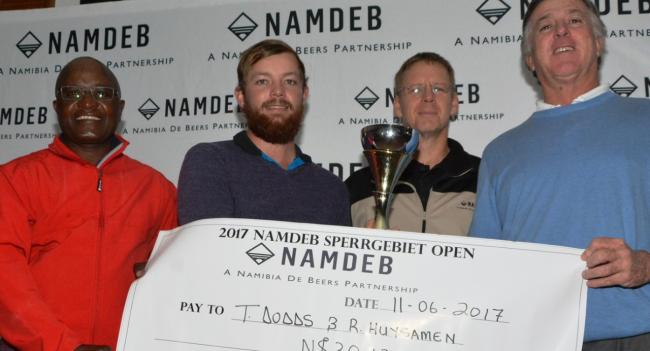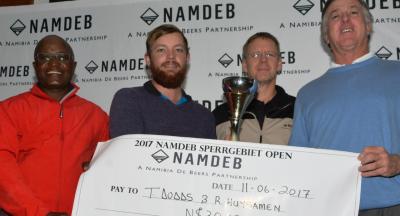 tweet me:
Top golfers from 3 #African countries compete in #Debmarine #Namdeb Foundation-sponsored tournament @DeBeersGroup https://t.co/HIb5FeAqa9
Monday, July 10, 2017 - 8:30am
Twenty-four professional and 14 amateur golfers from Namibia, South Africa and Zambia battled for the top honours at the Namdeb Sperrgebiet Open. It was played over 54 holes on three days (9-11 June) in Oranjemund.
The Foundation sponsored the event as part of its social commitment to sports development in Namibia.
Hafeni Nghinamwaami, Golf Director of the Namibia Golf Tour, said the country had about 29 professional players and the tour would give them an opportunity to collect enough points for entry into top competitions in the region.
He was reported as saying: "Having a local tour creates opportunities for Namibian professional golfers to showcase their talent locally and internationally, thereby attracting more investment to the game, both at amateur and professional level."
The professional winners were Namibian golf star Trevor Dodds, who now plays in the US, and Ruan Huysamen, with a score of seven under par. They shared a prize of N$60,270 (US$4,680). Top performers in the amateur categories were Pineas Kamati, Erastus Nehoya, Raul  Cloete and Hugo Korner.
Earlier this year, the Namibia Golf Tour hosted its first ever trials in Windhoek for amateur golfers wanting to turn professional. Another tournament is scheduled for July.
Namdeb is De Beers Group's partnership venture with the Government of the Republic of Namibia.
About De Beers
De Beers is a member of the Anglo American plc group. Established in 1888, De Beers is the world's leading diamond company with expertise in the exploration, mining and marketing of diamonds. Together with its joint venture partners, De Beers employs more than 20,000 people across the diamond pipeline and is the world's largest diamond producer by value, with mining operations in Botswana, Canada, Namibia and South Africa. As part of the company's operating philosophy, the people of De Beers are committed to 'Building Forever' by making a lasting contribution to the communities in which they live and work, and transforming natural resources into shared national wealth. For further information about De Beers, visit www.debeersgroup.com.
Media Contact 
Press office
Tel +44 (0) 20 7430 3434
pressoffice@debeersgroup.com
Contact
De Beers Group of Companies
Keywords:
Philanthropy & Cause Initiatives
| Community Development | Corporate Contributions | De Beers | Exercise & Activity | Good Health and Well-Being | Health & Healthcare | Skills Development | Sustainable Development Goals
More From De Beers Group
Tuesday, January 30, 2018 - 8:30am
Friday, January 5, 2018 - 8:30am
Wednesday, January 3, 2018 - 8:30am