Manheim Delivers Record-Breaking Results for Kyle Petty Charity Ride
Primary tabs
Manheim Delivers Record-Breaking Results for Kyle Petty Charity Ride
Team members raise $110,000; locations serve as event pit stops in fifth consecutive year as sponsor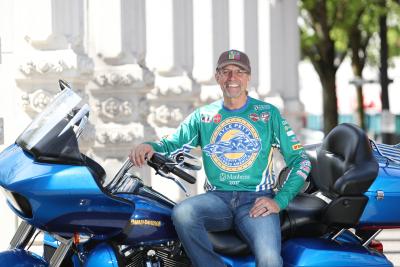 tweet me:
.@Manheim_US team members support the @KPCharityRide; $110K raised for children w/ chronic illnesses http://bit.ly/2sU2nYi
Thursday, July 13, 2017 - 12:00pm
ATLANTA, July 13, 2017 /3BL Media/ - Manheim team members nationwide rallied to support the 23rd anniversary Kyle Petty Charity Ride Across America May 13-19, 2017. For the fifth consecutive year, the brand was a presenting sponsor, raising a record-breaking $110,000 to support the Ride's primary benefactor, Victory Junction, a camp dedicated to providing life-changing experiences to children with chronic or life-threatening illnesses.
Manheim Portland, Manheim Minneapolis and Manheim Northstar Minnesota demonstrated the ideals of 'Be the Manheim' as an instrumental part of the event's success, delivering on-the-ground support for two of the seven overnight pit stop locations and hosting a variety of fundraising activities that engaged Manheim team members and fans alike. The Ride is one of many worthy charity organizations Manheim supports each year through an ongoing commitment to serving its communities.
The Ride kicked off at Manheim Portland on Saturday, May 13. There, team members and fans participated in fanfare with renowned former NASCAR driver and NBC Sports racing analyst, Kyle Petty. The team of approximately 200 bikers began their trek across eight states in seven days along the 2,400 mile Pacific Northwest route.
"To be part of a community of riders who have been supporting this cause since 1995 was truly an honor for our team," said Alex Fraser, general manager, Manheim Portland. "The gratitude and excitement the riders felt was contagious, and these emotions were amplified when our team members had the opportunity to spend time with Victory Junction campers and their families."
On the penultimate day of the Ride, Manheim team members, clients and fans from the community gathered at Manheim Minneapolis to greet riders, participate in fundraising activities and purchase memorabilia, which supported the Ride's "Small Change. Big Impact." program.
Manheim's rich legacy of supporting the Ride continued with the combined efforts of teams that hosted a variety of events like bake sales, pancake breakfasts, garage sales and raffles. In the Central Region, teams raised more than $70,000, while National West Region teams raised $40,000 in raffle tickets for the chance to win a Harley Davidson.
"Our relationship with the Kyle Petty Charity Ride spans 20 years, and this partnership is a reflection of the brand's commitment to giving back," said Janet Barnard, president, Cox Automotive Inventory Solutions. "As always, our team members and dealer clients were enthusiastic about getting involved with the Ride, participating in creative fundraising and outreach that contributed to our collective impact.
In 2017, the Ride raised more than $1.3 million, helping send more than 100 children to camp at Victory Junction at no cost to them. At camp, these kids forget about their illness for a while – thanks to the heartfelt contributions from the Kyle Petty Charity Ride and supporters from coast to coast.                       
For further information: Julie Zorn Shipp Manager, Public Relations Phone: 404.568.7914 Email: julie.shipp@coxautoinc.com
Keywords:
Health & Healthcare
| Chronic Illness | Disease Awareness | Exercise & Activity | Good Health and Well-Being | Improving Healthcare Access | Manheim | Wellness | cox
More From Cox Enterprises
Friday, November 17, 2017 - 9:00am
Wednesday, November 15, 2017 - 11:00am
Wednesday, November 15, 2017 - 9:00am