The Next Generation Rucksack: Booz Allen Interns Develop Autonomous Vehicle to Ease Soldiers' Load
Primary tabs
The Next Generation Rucksack: Booz Allen Interns Develop Autonomous Vehicle to Ease Soldiers' Load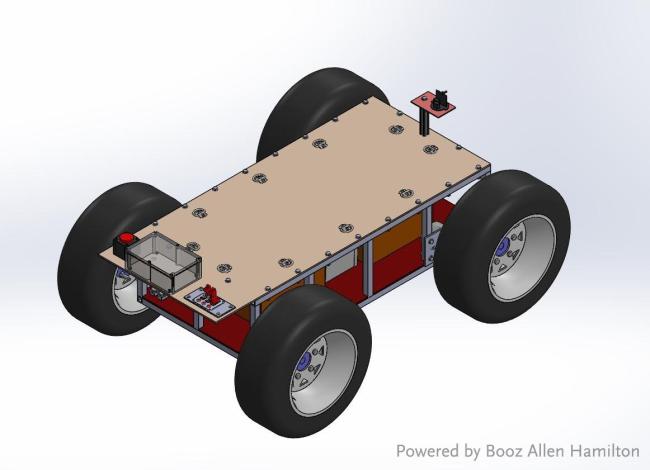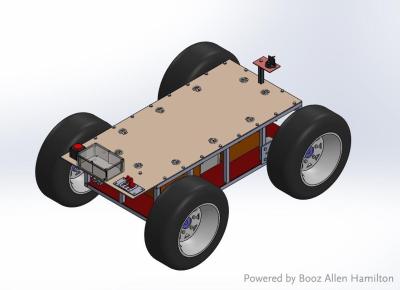 tweet me:
.@BoozAllen Interns Develop Autonomous Vehicle to aid soldiers at the #SummerGames. #BAH_PCB http://bit.ly/2v8rJlR
Friday, August 18, 2017 - 3:30pm
Today the average U.S. soldier carries at least 60 pounds of gear. An extended patrol can double that weight.1  A group of Booz Allen Summer Games interns are looking to end the musculoskeletal injuries – a result of the weight they carry – that can plague soldiers. As the military explores how to lighten the weight of equipment, these interns in Panama City, Fl. spent their summer designing and building an unmanned ground vehicle (UGV), the so-called "Pack MULE", to carry soldiers' equipment and cargo.
The team is led by Robert Gysi, who began his career at Booz Allen a decade ago as an intern. "Soldiers face a raft of musculoskeletal injuries as a result of the weight they are required to carry," he said. "Not only does this reduce troops' combat-readiness and mobility, it also means that young soldiers are too often diagnosed with painful conditions like arthritis and bone spurs, which are a direct result of their heavy packs."
Mechanical Engineering students Kasey Lugo, from Panama City, Florida and Krish Desai, of Aurora, Colorado have been challenged to design the UGV's base frame, or chassis, select mechanical components, and run various analyses.  Emily Crews, an Electrical Engineering student from Samson, has designed the electrical aspect of the project, including selecting electrical components and completing system schematics.  Computer Science student Taylor Shields of Lakeville, Minnesota, is selecting sensors for obstacle avoidance and autonomous following as well as developing code to integrate the sensors into the UGV's system.
"It's been so rewarding to work on a full project lifecycle—from pure concept to prototype," said team member Kasey Lugo. Krish Desai added, "This UGV directly helps soldiers, not only while they serve, but also after their service, limiting physical strains on their bodies that may cause future medical problems. I can't think of a better way to spend a summer than to help create a product that will help keep our military men and women healthy."
Wherever the UGV goes, the team is confident it will carry the burden of many in need.
Think your ideas can change the world? Visit: boozallen.com/careers. 
More From Booz Allen Hamilton
Wednesday, October 17, 2018 - 4:15pm
Tuesday, October 16, 2018 - 12:30pm
Wednesday, October 10, 2018 - 4:00pm