Schneider Electric Livestream: The Disruptive Power of Innovation
Primary tabs
Schneider Electric Livestream: The Disruptive Power of Innovation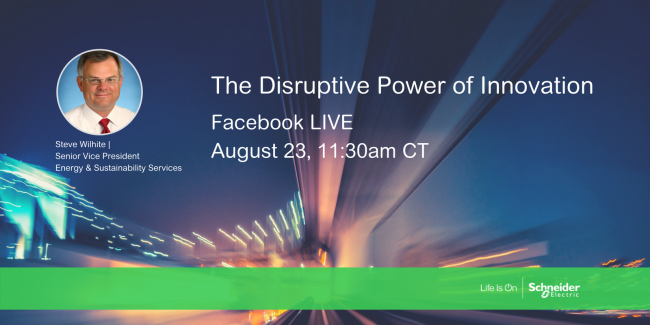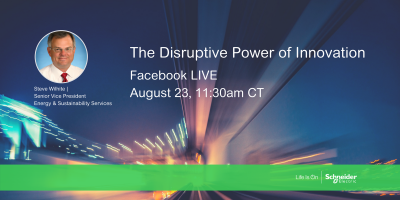 tweet me:
How is #innovation disrupting #energy & #susty efforts? Watch @SchneiderElec Facebook LIVE Aug. 23 seESS.co/s88q3 #LifeIsOn #IoT
Tuesday, August 22, 2017 - 8:50am
Digitization has created unprecedented global connectivity — from corporate sites down to individual pieces of technology. Steve Wilhite, Senior Vice President at Schneider Electric, will discuss how this innovation disrupts the way organizations currently strategize their energy and sustainability programs. The event will be livestreamed from the company's Energy & Sustainability Perspectives Summit, a gathering of more than 200 industry leaders.
Like us on Facebook and tune in Aug. 23 at 11:30 a.m. CT.
More information: https://www.perspectivessummit.com/
Links to related resources:
http://www.schneider-electric.com/b2b/en/services/energy-and-sustainability/ 
More From Schneider Electric
Wednesday, February 20, 2019 - 10:00am
Monday, February 18, 2019 - 10:30am
Friday, February 15, 2019 - 10:30am