From Transactional to Transformative Employee Engagement
Primary tabs
From Transactional to Transformative Employee Engagement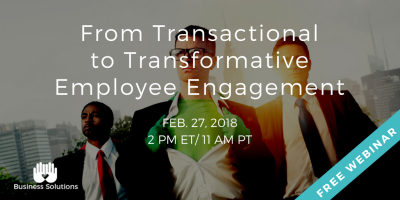 tweet me:
Go from transactional to transformative employee engagement! Learn how in this free webinar. Sign up now: http://bit.ly/2Et06cv via @VM_Solutions
Friday, February 16, 2018 - 7:40am
You've likely experienced transactional volunteering at your company: An employee signs up for a volunteer opportunity, contributes their time to a good cause, and … well, that's the end of it.
But what if all parties involved — employees, your company, and good causes — could get more from these interactions?
On Feb. 27, 2018, at 2 p.m. ET/11 a.m. PT, VolunteerMatch and The Collaboration Vector Inc. (TCV) will introduce you to TCV's Transformative Community Involvement™ approach, which engages employees and nonprofits in collaborating to solve societal problems through a process proven to power business performance as it delivers real societal progress.
You'll learn:
How to implement evidence-based decision-making to guide your program's evolution – and align with UN SDGs.
How TCV's client, SeaLand, achieved distinction in Ethical Corporation's 2017 global competition for responsible business – category Employee Engagement of the Year – a mere 1.5 years into implementation.
How VolunteerMatch's Business Solutions facilitate a transformative approach by easing the process of finding the best nonprofit partners.
More From VolunteerMatch
Wednesday, February 27, 2019 - 12:00pm
Thursday, February 14, 2019 - 2:00pm
Monday, January 21, 2019 - 10:30am