VIDEO | WWF & HP Discuss Climate Action at COP23
Primary tabs
VIDEO | WWF & HP Discuss Climate Action at COP23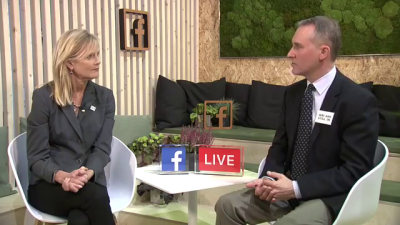 tweet me:
VIDEO | @WWF & @HP Discuss #ClimateAction at #COP23 http://bit.ly/2AT7LQ1 @HPSustainable #SDGs #SupplyChain
Friday, November 17, 2017 - 8:35am
As world leaders gathered in Bonn, Germany, for COP23, World Wildlife Fund's Sheila Bonini spoke with HP's David Eichberg about corporate climate action in the United States and beyond. HP is a proud member of WWF Climate Savers. Climate change is one of the most significant and urgent issues facing business and society today.
HP believes taking action to hold warming below 2 degrees Celsius and transition to a circular, low-carbon economy is not only our responsibility, it's vital to the long-term success of our business.
Learn more about HP's sustainability initiatives, goals and progress at www.hp.com/sustainability.
Keywords:
Sustainable Development Goals
| Affordable and Clean Energy | COP23 | Climate Action | David Eichberg | Environment | Events, Media & Communications | HP Inc | Innovation & Technology | Partnership for the Goals | Supply Chain & the Circular Economy
More From HP, Inc.
Monday, September 24, 2018 - 9:55am
Monday, September 17, 2018 - 1:10pm
Thursday, September 13, 2018 - 3:15pm