Whole Planet Foundation | Dispatch From the Field - Impact Dashboard Update
Primary tabs
Whole Planet Foundation | Dispatch From the Field - Impact Dashboard Update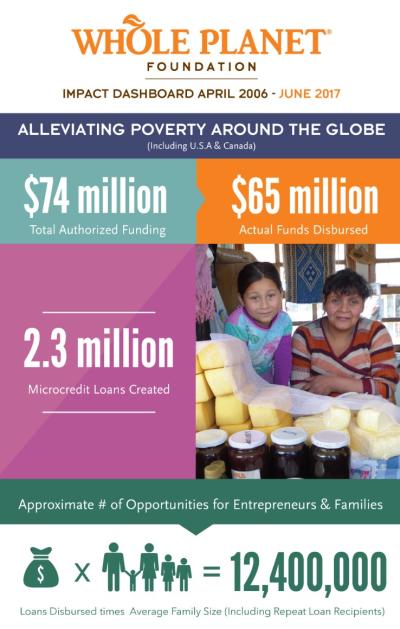 tweet me:
INFOGRAPHIC: How @WholePlanet is alleviating #poverty around the globe http://bit.ly/2uYoMZH
Tuesday, August 22, 2017 - 8:00am
Thanks to our microfinance partners around the globe who are working diligently daily to serve the world's poorest people, the average first loan size we fund has decreased to $184. View our impact dashboard updated this week.  We are grateful for their hard work to alleviate global poverty for the unserved. 
Learn more about Whole Planet Foundation microfinance partners in 70 countries here. 
Keywords:
Philanthropy & Cause Initiatives
| Fighting Poverty | Sustainable Finance & Socially Responsible Investment | Women Entrepreneurs | whole foods | whole planet foundation
More From Whole Foods Market Foundations
Friday, September 14, 2018 - 10:10am
Tuesday, September 4, 2018 - 9:00am
Friday, August 24, 2018 - 9:55am