Bumble Bee Foods
Corporate Social Responsibility (CSR), Sustainability and Cause News & Media
Bumble Bee Foods
Primary tabs
Flexible Media Releases
Bumble Bee Foods ON SOCIAL MEDIA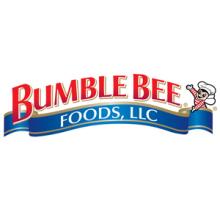 Bumble Bee Foods, LLC, headquartered in San Diego, is North America's largest branded seafood company, offering a full line of canned and pouched tuna, salmon, sardine, and specialty protein products marketed in the U.S. under leading brands including Bumble Bee®, Brunswick®, Snow's® and Beach Cliff®, and in Canada under the Clover Leaf® brand. The company also produces premium fresh frozen seafood under the Bumble Bee SuperFresh™ line. Bumble Bee SuperFresh™ seafood is cleaned, cut and fresh frozen within hours, then chef prepared with high-quality all natural ingredients.
Bumble Bee's mission is to provide high-quality, nutritious product and meal solutions that are sourced sustainably. Its BeeWell for Life® brand philosophy and signature program by the same name encourage consumers to eat healthfully and deliciously while maintaining an active everyday lifestyle. Bumble Bee® is a founding member of the Healthy Weight Commitment Foundation — a first-of-kind initiative in the U.S. involving a coalition of retailers, non-profit organizations and food and beverage manufacturers with a mission to help reduce obesity, particularly childhood obesity by 2015.
Bumble Bee® also actively promotes the responsible stewardship of global fisheries resources and is a founder of the International Seafood Sustainability Foundation (ISSF) — a global partnership of scientists, tuna processors and WWF, the global conservation organization. For more information, visit www.BumbleBee.com and www.wildselections.com.