Burson-Marsteller
Corporate Social Responsibility (CSR), Sustainability and Cause News & Media
Burson-Marsteller
Primary tabs
Burson-Marsteller ON SOCIAL MEDIA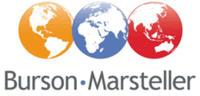 Burson-Marsteller is a leading global public relations and communications firm. Our strategic insights and innovative programming build and sustain strong corporate and brand reputations. We provide our clients with counsel and program development across the spectrum of public relations, public affairs, reputation and crisis management, digital strategy, advertising and other communications services. Our clients are global companies, industry associations, professional services firms, governments and other large organizations.
Clients often engage Burson-Marsteller when the stakes are high: during a crisis, a brand launch or any period of fundamental change or transition. They come to us needing sophisticated communications campaigns built on knowledge, research and industry insights. Most of all, clients come to us for our proven ability to communicate effectively with their most critical audiences and stakeholders. We develop client programs using an Evidence-Based Communications approach. Evidence-Based Communications is a scientific approach to communications, driven by data at the beginning, the middle and the end.
We have global capabilities in: consumer and brand marketing, corporate and financial communications, crisis and issues management, digital, healthcare communications and market access, public affairs, and technology communications.
Burson-Marsteller is part of the Young & Rubicam Group, working as partners for some of the world's strongest brands. This relationship, which is unique in the industry, has created a combination of companies strategically positioned to provide clients with a complete range of integrated services. We further expanded our client-service capabilities when Young & Rubicam Group became a member ofWPP plc, the world's most comprehensive communications services group.