Hanergy Holding Group Ltd.
Corporate Social Responsibility (CSR), Sustainability and Cause News & Media
Hanergy Holding Group Ltd.
Primary tabs
Flexible Media Releases
Hanergy Holding Group Ltd. ON SOCIAL MEDIA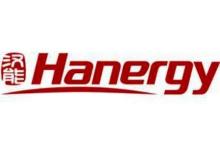 About Hanergy Holding Group Ltd.
Hanergy Holding Group Ltd. ("Hanergy") is a global clean-energy power generation company and the world's largest thin-film PV company and solutions provider. Hanergy engages in the integration of the entire photovoltaic industry chain, covering R&D, high-end equipment manufacturing, PV module production and the construction of photovoltaic power plants. Hanergy possesses industry-leading CIGS thin-film PV technology and has the world's largest production capacity of thin-film modules. To date, the company has entered into solar-power plant construction agreements with a combined capacity of approximately 10GW. Its business also covers hydropower and wind power. Headquartered in Beijing and with operations across China, the Asia Pacific, North America and Europe, Hanergy employs over 8,000 people.