StartSomeGood
Corporate Social Responsibility (CSR), Sustainability and Cause News & Media
StartSomeGood
Primary tabs
StartSomeGood ON SOCIAL MEDIA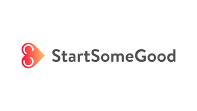 We exist to empower you to become a social innovator. By providing social entrepreneurs, changemakers and non-profits with the tools you need to rally your community and raise funds, together we can turn ideas into action and impact.
The truth is there is no shortage of problems in the world. But the good news is there's also no shortage of people with the ideas and passion to address those problems. These are our people, the changemakers. Too often however, the vision for change doesn't come packaged with the resources needed to make it happen. StartSomeGood provides social entrepreneurs with a platform to raise funds and build a community of supporters -- all in a fun, engaging and community-driven way. Our site taps into the power of community, allowing social entrepreneurs to ask for financial support from supporters from around the world. We give them the tools to update their supporters and provide unique rewards in exchange for support - on their first campaign, and for future campaigns down the road.
We've taken the crowdfunding model -- which is growing in popularity world-wide -- and customized it to reflect the unique needs of social entrepreneurs.
If you are visiting for the first time, we know you'll find many worthwhile initiatives and inspiring changemakers here. We hope you'll choose to chip in to help these important ventures start and thrive, to help those who are helping our world. Then we hope you'll think about what your community needs, and the good you might start yourself. And when you're ready to get started, we're ready to help.
Creating a more sustainable, equal and just future will take all of us.
So, how will you StartSomeGood?