Colombian Edgar Montenegro Wins International 2018 Oslo Business for Peace Award
Primary tabs
Colombian Edgar Montenegro Wins International 2018 Oslo Business for Peace Award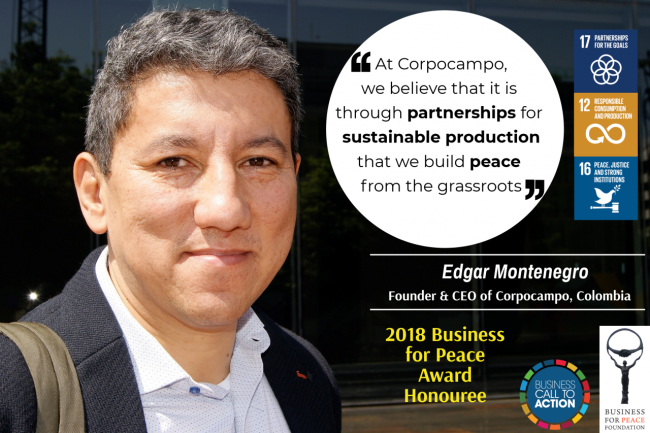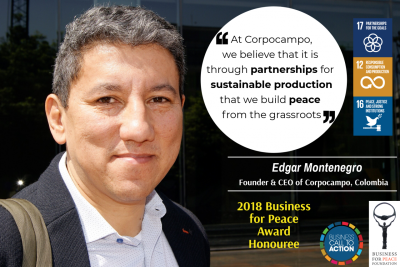 tweet me:
.@BCtAInitiative member Edgar Montenegro of @corpocampo_col wins International 2018 Oslo Business for Peace Award http://bit.ly/2DG2E63 @Businessworthy #BfP #Colombia
Tuesday, March 20, 2018 - 11:05am
OSLO, Norway, March 20,2017 /3BL Media/ –  Edgar Montenegro, Founder and CEO of Corpocampo, is one of the 2018 winners of the Oslo Business for Peace award, Business for Peace announced today. The other winners are Lori Blaker, President and CEO of TTi Global, and Martin Naughton, Founder of Glen Dimplex Group. All three winners have made exceptional contributions to peacebuilding through business.
 
The Oslo Business for Peace Award is given out annually to exemplary business leaders who apply their business energy ethically and responsibly, creating economic and societal value. The 2018 winners were selected by an independent committee of Nobel Laureates and join the ranks of past award recipients including Sir Richard Branson (Virgin Group), Paul Polman (Unilever), Jennifer Riria (Kenya Women Holding), Dureen Shahnaz (Impact Investment Exchange), and Elon Musk (Tesla).
 
Edgar Montenegro (Colombia) founded Corpocampo in 2003 with the aim of using food production to build sustainable communities. The Colombian Pacific Coast region has long been affected by the country's internal conflict, leading to widespread poverty, violence, and illegal coca crop production. Montenegro wanted to improve peoples' lives by providing a legal and reliable source of income. His company specialises in the production and distribution of acai berries and palm hearts, with all products deriving from sustainable farming practices. Operating in several locations in Colombia, including Cauca, Nariño, Valle del Cauca and Putumayo escarpments, Montenegro works closely with local Afro-Colombian communities and indigenous people. Corpocampo has provided jobs for over 240 female- headed households, impacting over 1,300 families. Montenegro is recognized for his courageous achievements proving how the private sector can build peace by identifying business opportunities that help marginalised groups become more resilient.
 
As a way of scaling their inclusive business, in 2017 Corpocampo joined Business Call to Action, a global platform led by the United Nations Development Programme that aims to accelerate progress towards the Sustainable Development Goals by challenging companies to develop inclusive business models. As part of its social commitment, Corpocampo has pledged to integrate 600 new families into its açaí palm value chain by 2020, providing smallholder suppliers and local plant employees with sustainable livelihoods through the production of its wild-harvested natural products.
Lori Blaker (United States) champions inclusion and gender equality as core values at TTi Global, a staffing, recruiting, and consulting firm operating on five continents with over 2000 employees. Blaker is recognized for her business performance not only in the United States but in developing economies such as India and Afghanistan. In 2016, Blaker opened a retail Automotive Service Center and Training Center in Kabul, creating much-needed job opportunities in a challenging environment. Notably, the facility employs both men and women. Blaker developed a special training program for local women to learn management skills in a culture and industry they would traditionally be barred from, which is just one example of her commitment to making positive change through business.
Martin Naughton, KBE (Ireland) has grown Glen Dimplex Group from seven employees in 1973 to becoming Ireland's largest privately-owned manufacturing business and one of the world's leading manufacturers of domestic appliances. During the turbulent years of the Northern Ireland conflict, Naughton promoted and supported business on both sides of the border, including negotiating cross-border trade. Naughton also played a significant role in establishing a corporate department on renewable and low-carbon solutions for heating, cooling, and ventilation, taking an active role in tackling climate change. Naughton receives the Award for his inspiring efforts to promote the role of the private sector in contributing to peace and environmental sustainability.
The selection process
Winners are selected annually by an independent committee of Nobel Prize winners in Peace and in Economics after a global nomination process through the International Chamber of Commerce, United Nations Global Compact, United Nations Development Programme, and Principles for Responsible Investment. The Award Committee consists of Shirin Ebadi (Iran), Leymah Gbowee (Liberia), Finn Kydland (Norway), Ouided Bouchamaoui (Tunisia), and Eric Maskin (USA). The committee evaluated the nominees on the criteria of being a role model to society and their peers, having earned trust by stakeholders, and standing out as an advocate.
Upcoming award ceremony
The three winners will receive the Award in a ceremony at Oslo City Hall on May 16, as part of the annual Business for Peace Summit. The theme for this year's Summit is Building Trust: Accelerating Climate Leadership. Chef and business leader Jamie Oliver as well as Christiana Figueres, one of the key architects of the Paris Agreement and former Executive Secretary of the UN Framework Convention on Climate Change, have been announced as speakers for the Summit.
Media Relations:
For interview requests or more information about Business for Peace and the Oslo Business for Peace Award, please contact: Alison Uttley, alison@businessforpeace.org or +47 48 68 46 30
ABOUT BUSINESS FOR PEACE
Business for Peace is an international foundation based in Oslo that aims to support, inspire, and recognise global business leaders who are positively changing the face of business. At the centre of the Foundation's activities is the annual Oslo Business for Peace Award, conferred to exceptional individuals who exemplify the Foundation's concept of being businessworthy: ethically and responsibly creating value both for both business and society. An independent Award Committee, consisting of Nobel Laureates in peace and economics, selects the Award Honourees each year. The Foundation also hosts an annual Summit bringing together business leaders, investors, leaders of NGOs, politicians, academics, and civil society from all over the world to discuss the practical actions needed in order to make substantial and sustainable business contributions to society.
ABOUT BUSINESS CALL TO ACTION (BCtA)
Launched at the United Nations in 2008, BCtA aims to accelerate progress towards the Sustainable Development Goals (SDGs) by challenging companies to develop inclusive business models that offer the potential for both commercial success and development impact. BCtA is a unique multilateral alliance between key donor governments including the Dutch Ministry of Foreign Affairs, Swedish International Development Cooperation Agency (Sida), Swiss Agency for Development and Cooperation, UK Department for International Development, US Agency for International Development, and the Ministry of Foreign Affairs of the Government of Finland, and the United Nations Development Programme — which hosts the secretariat.
More From Business Call to Action (BCtA)
Friday, March 22, 2019 - 9:05am
Thursday, March 21, 2019 - 10:15am
Wednesday, March 20, 2019 - 12:10pm