INFOGRAPHIC: Food Safety and Quality at Smithfield Foods
Primary tabs
INFOGRAPHIC: Food Safety and Quality at Smithfield Foods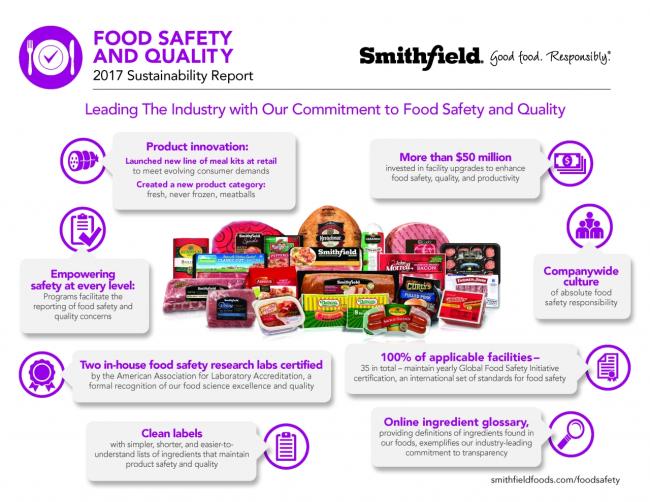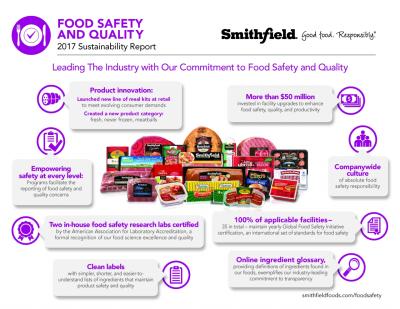 tweet me:
.@SmithfieldFoods leads industry in commitment to #foodsafety and quality with #innovative new product category and $25 million investment in meal kits http://bit.ly/2L98Jg9
Friday, May 18, 2018 - 9:05am
Learn more about Smithfield Foods' industry-leading approach producing safe, high-quality foods in the Food Safety and Quality section of Smithfield's 2017 Sustainability Report, including the company's innovative new products and millions invested in facility upgrades. To read the full section, please visit smithfieldfoods.com/foodsafety.
About Smithfield Foods
Smithfield Foods is a $15 billion global food company and the world's largest pork processor and hog producer. In the United States, the company is also the leader in numerous packaged meats categories with popular brands including SmithfieldⓇ, EckrichⓇ, Nathan's FamousⓇ, FarmlandⓇ, ArmourⓇ, Farmer JohnⓇ, KretschmarⓇ, John MorrellⓇ, Cook'sⓇ, GwaltneyⓇ, CarandoⓇ, MargheritaⓇ, Curly'sⓇ, Healthy OnesⓇ, MorlinyⓇ, KrakusⓇ and BerlinkiⓇ. Smithfield Foods is committed to providing good food in a responsible way and maintains robust animal care, community involvement, employee safety, environmental and food safety and quality programs. For more information, visit www.smithfieldfoods.com.
More From Smithfield Foods
Friday, December 14, 2018 - 3:00pm
Thursday, December 13, 2018 - 2:00pm
Friday, December 7, 2018 - 9:05am