Infographic: Subaru's 50 Cars for 50 Years
Primary tabs
Infographic: Subaru's 50 Cars for 50 Years
Vehicle donation will enable Meals on Wheels programs to deliver more nutritious meals and companionship to seniors in need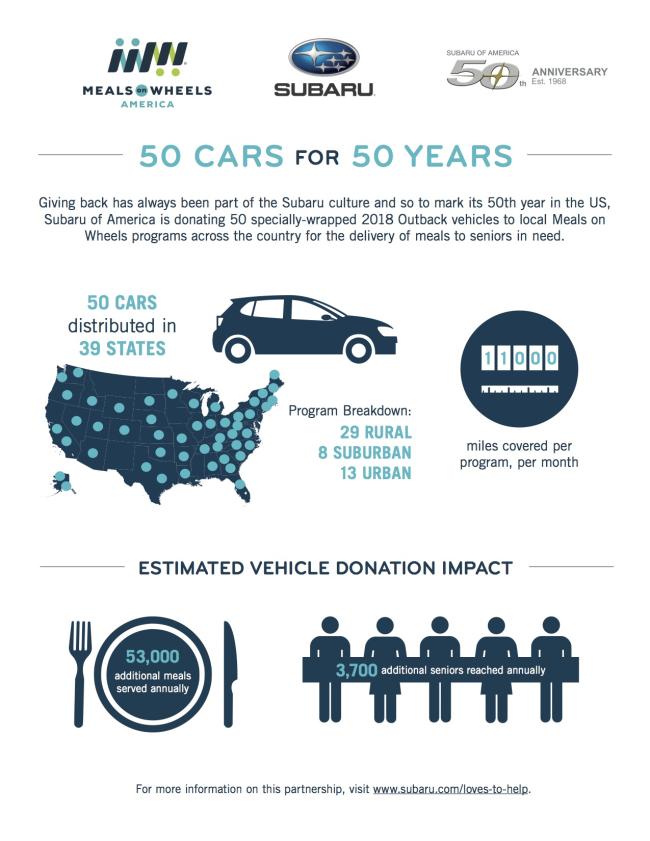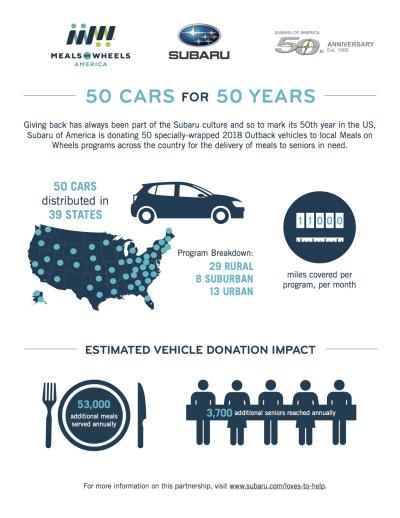 tweet me:
.@subaru_usa '50 Cars for 50 Years' will enable @_MealsOnWheels to deliver more meals http://bit.ly/2vWrAqj #SubaruLovesToHelp
Tuesday, August 15, 2017 - 9:00am
Subaru has supported Meals on Wheels for the last nine years through Share the Love, contributing more than $12 million to Meals on Wheels America and providing more than 1.7 million nutritious meals, friendly visits, and safety checks to seniors in communities nationwide. Subaru announced the donation to its 630-strong retailer body at the company's National Business Conference in Denver, CO. This was particularly appropriate as Subaru retailers participate in the company's annual Share the Love event and donate to causes in their local community. The company's '50 Cars for 50 Years' vehicle donation will enable Meals on Wheels programs to deliver more nutritious meals and moments of companionship, expanding its reach to seniors in need.
Keywords:
Philanthropy & Cause Initiatives
| Corporate Social Responsibility | Employee Giving | Meals on Wheels | Media & Communications | Partnerships | Philanthropy & Cause Initiatives | Research, Reports & Publications | Responsible Business & Employee Engagement | Responsible Production & Consumption | Shared Value
More From Subaru of America
Tuesday, September 18, 2018 - 8:00am
Wednesday, September 5, 2018 - 8:35am
Thursday, August 30, 2018 - 2:00pm