Lichen-Inspired Carpet Awarded the Living Product Challenge Petal Certification
Primary tabs
Lichen-Inspired Carpet Awarded the Living Product Challenge Petal Certification
Mohawk Group's Lichen Collection is the first floor covering to receive this certification.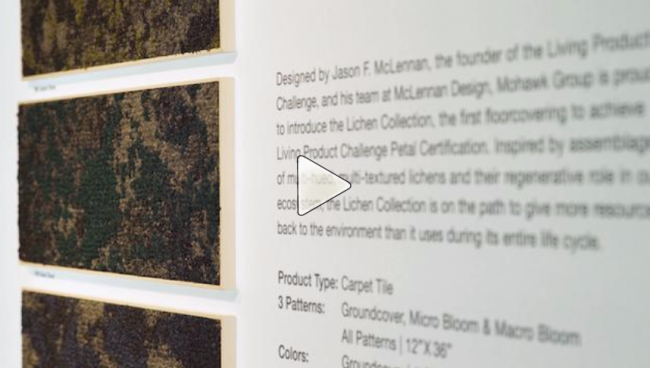 Click here to view video.
" href="https://3blmedia.com/sites/www.3blmedia.com/files/images/Screen_Shot_2017-08-03_at_12.27.16_PM.png" rel="slick-gallery-node-94001">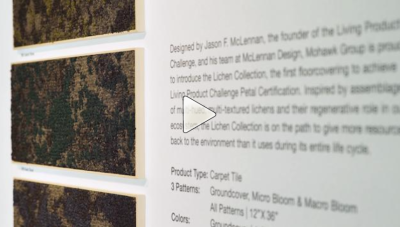 tweet me:
.@MohawkGroup's Lichen-Inspired Carpet Awarded the #LivingProductChallenge #PetalCertification via @builderonline #GreenBuilding
Thursday, August 3, 2017 - 12:45pm
Jason McLennan, founder of the International Living Future Institute (ILFI) and 2017 HIVE dean, worked for eight months with Mohawk to develop flooring that brought the natural beauty of lichen inside.
As he explains in this short video, Mohawk now offers nine carpets that honor a series of different species of lichen with unique growing patterns and colors.
The carpet is the first product to receive the ILFI Petal Certification, says George Bandy Jr., vice president of sustainability for the Mohawk Group.
Keywords:
Green Infrastructure
| Awards, Ratings & Rankings | Corporate Social Responsibility | Green Building | International Living Future institute (ILFI) | Lichen Carpet | Petal Certification | Supply Chain & the Circular Economy | Sustainability | living product challenge | mohawk group
More From Mohawk Industries
Monday, September 17, 2018 - 9:10am
Thursday, September 6, 2018 - 5:00pm
Tuesday, September 4, 2018 - 10:15am