NRG Sustainable Operations | Reducing Carbon Emissions
Primary tabs
NRG Sustainable Operations | Reducing Carbon Emissions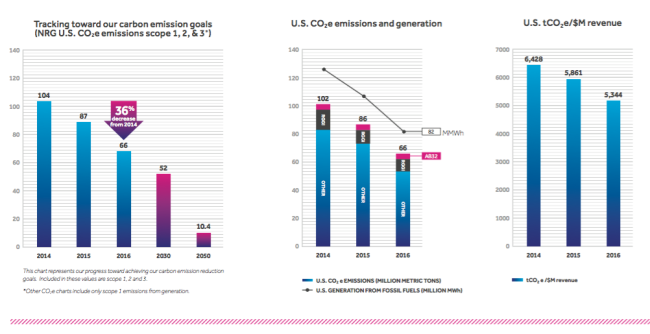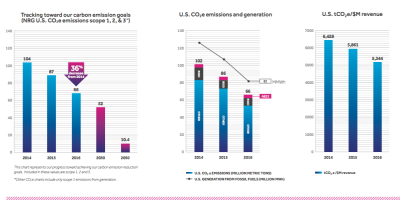 tweet me:
.@NRGEnergy #SustainableOperations: Reducing #CarbonEmissions http://bit.ly/2tZRcwW #Sustainability @NRGinsight
Wednesday, August 2, 2017 - 8:15am
GHG emissions
NRG closely monitors its environmental impacts. We emit CO2 when generating electricity at most of our facilities. The graphs presented below illustrate our U.S. scope 1 emissions of CO2e for 2014, 2015 and 2016. We anticipate reductions in our future emissions profile as we modernize our fleet through repowering, improve generation efficiencies and explore methods to capture CO2.
From 2015 to 2016, our CO2e scope 1 emissions from generation decreased from 86 million metric tons to approximately 66 million metric tons, a 23-percent reduction. Factors leading to the decreased emissions include reductions in fleet-wide annual net generation due to an overall decrease in market demand and a market-driven shift towards increased generation from natural gas over coal. Additionally, as we have diversified our business beyond fossil fuel-based generation, the carbon intensity of our revenue, a key measure for our investor community, again decreased significantly in 2016.
Carbon emission goals
We plan to do our part to reduce our carbon emissions while growing our business and facilitating global progress toward a sustainable energy future. In November 2014, we set industry-leading greenhouse gasreductiongoalsandannouncedagoaltocutCO2 and CO2 equivalent emissions 50 percent by 2030 and 90 percent by 2050 from a 2014 baseline. This goal includes scope 1, 2, and 3 emissions. For more detail, see our third-party assurance statement.
In 2015, 10 companies to have their carbon emission reduction targets approved by the Science Based Targets initiative, a joint effort of CDP, the World Resources Institute, the World Wildlife Fund and the U.N. Global Compact. The initiative
works with companies and approves only corporate targets that meet its strict criteria. In March 2017, we were recognized for Excellence in Greenhouse Gas Management (Goal Setting) by the EPA's Climate Leadership Awards. (NRG was notified of the award in 2016.)
Carbon asset risks
We believe future energy production can be both lower carbon and lower cost, and we're committed to making this vision a reality. As the nation's largest independent power producer, we have a unique opportunity to lead by example.
Over the last three years, our exposure to carbon risk has been greatly reduced. Between 2014 and 2016, in fact, our CO2 emissions dropped 36 percent.
That puts us well on track to achieve our goal of
a 50-percent reduction by 2030. Our emissions will continue to decrease as we transition to more renewable and natural gas generation.
Reducing carbon emissions
In 2016, we announced an important milestone in our fleet-optimization strategy by completing coal-to-gas projects totaling 2.2 gigawatts at three power plants:
Our Joliet Generating Station near Chicago generates enough power for more than one million average households after all three of its units were converted for a total of 1,326 MW
With 590MW of natural gas generation, Pennsylvania's Shawville Generating Station can power more than 475,000 average households
Our New Castle Generating Station near Pittsburgh generates enough power for more than 250,000 average households at 325 MW
These modifications and the flexibility they allow reduce the plants' combined carbon footprint by more than 80 percent, a key step toward our goal of generating cleaner power. The reductions also were made in an economically efficient way while making the plants more competitive.
Coal-to-gas projects play an important role in moving our industry to reduce carbon emissions.
The role of regulation
The effects of federal, regional or state regulation of GHG on our financial performance depends on a number of factors, including:
Legal challenge outcomes 

Regulatory design 

GHG-reduction levels 

Availability of offsets 

Extent to which we would be entitled to receive CO2 emissions credits without having to purchase them at auction or in the open market 
Thereafter, under any such legislation or regulation, the impact on NRG would depend on our level of success in developing and deploying low- and no-carbon technologies. 
NRG operates power generation units in states that
are subject to the Regional Greenhouse Gas Initiative (RGGI), which is a regional cap-and-trade system. RGGI is a cooperative e ort among the states of Connecticut, Delaware, Maine, Maryland, Massachusetts, New Hampshire, New York, Rhode Island and Vermont.
The same holds true for California's cap-and-trade program. Changes to these rules could affect our operational results, financial standing and cash flow. Learn more in Policy engagement (page 11 of report). 

For example, in November 2015, the EPA revised the Effluent Limitations Guidelines for Steam Electric Generating Facilities, which would impose more stringent requirements (as individual permits are renewed) for waste-water streams from flue gas desulfurization, fly ash, bottom ash and flue gas mercury control. Due to further, more recent EPA action, we anticipate that this reconsideration will result in a revised rule that will result in a decrease in previously disclosed, anticipated, environmental capital expenditures as well as a delay in such spending.
As mentioned in Sustainability Context (on page 4 of report), decarbonizing the energy industry requires rapid, massive change, and the role of competitive markets is essential. Policy incentives help make renewables a viable option, but supportive market structures are necessary to ensure success beyond incentives. Direct retail access to renewable
energy improves market transparency, drives innovation and investment in renewable infrastructure, and supports the expansion of renewable energy to the general public. Business consumers can help by advocating for policies that support competitive renewable markets.
Petra Nova
In partnership with JX Nippon Oil & Gas Exploration and Hilcorp Energy Co., we completed the Petra Nova project (seen left), the world's largest post-combustion carbon capture facility, located at our WA Parish Generating Station southwest of Houston. The project, which began operations in 2016 on schedule and on budget, combines carbon capture with enhanced oil recovery (EOR) to increase domestic oil supply while decreasing the amount of CO2 released into the atmosphere.
The Petra Nova project captures more than 90 percent of the CO2 from a 240-megawatt equivalent slipstream of flue gas. At that rate, the project can capture more than 5,000 tons of CO2 per day – the equivalent of taking more than 350,000 cars o the road.
An 80-mile pipeline safely transports the captured CO2 through Fort Bend, Wharton and Jackson counties to the West Ranch oil field. Through EOR, oil production at West Ranch is expected to jump from around 300 barrels a day to a peak of 15,000 barrels a day while also sequestering 1.6 million tons of CO2 annually.
Download NRG Energy's Sustainability Report here.
Learn more about NRG Energy's sustainability initiatives here.
Keywords:
Environment
| Alternative Energy | CSR Reports | Carbon Emissions | Carbon Offsets | Corporate Social Responsibility | Energy | GHG emissions | NRG Energy | Renewable Energy | Research, Reports & Publications
More From NRG Energy
Monday, September 17, 2018 - 9:45am
Tuesday, September 11, 2018 - 11:35am
Tuesday, September 4, 2018 - 11:55am