Partner Spotlight: MilliporeSigma and Biopharma Recycling
Primary tabs
Partner Spotlight: MilliporeSigma and Biopharma Recycling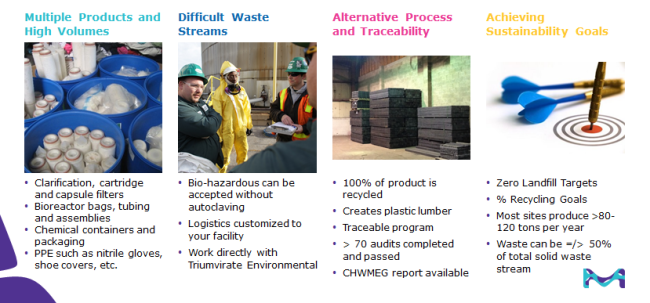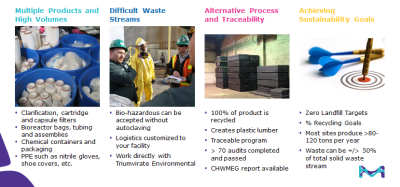 tweet me:
Read how @Triumvirate and @MilliporeSigma work together to fully #recycle single-use and disposable products at http://bit.ly/2u8v5IX
Wednesday, July 12, 2017 - 10:30am
Here at Triumvirate Environmental, we work with our partners in environmental, health, and safety to promote environmental protection and sustainable development. Today, we would like to focus on one of our life sciences partners who has gone above and beyond to put a focus on corporate responsibility and recycling, MilliporeSigma. Read below to learn all about MilliporeSigma, single-use technologies, and their role in biopharma recycling.
MilliporeSigma is part of the Merck KGaA, Darmstadt, Germany group, focused in the life sciences part of their business. They have a global reach with over 300,000 products, one million customers in 66 countries, 65 manufacturer sites, and 130 distribution centers. MilliporeSigma provides scientists and engineers with best-in-class lab materials, technologies, and services to help solve the toughest problems in life science by collaborating with the global scientific community. They are dedicated to "making research and biotech production simpler, faster, and safer."
Keywords:
Environment
| Corporate Responsibility | MilliporeSigma | Recycling | Responsible Production & Consumption | Supply Chain & the Circular Economy | Triumvirate Environmental | biopharma reycling | single-use technologies | social corporate responsibility
More From MilliporeSigma
Tuesday, September 18, 2018 - 9:25am
Monday, September 10, 2018 - 11:30am
Friday, September 7, 2018 - 10:45am