Republic Services Donates Coloring Books to Children's Minnesota
Primary tabs
Republic Services Donates Coloring Books to Children's Minnesota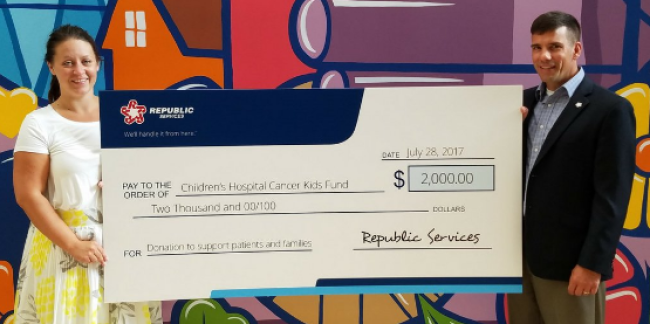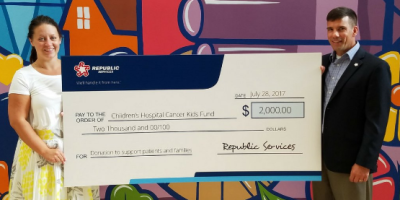 tweet me:
.@RepublicServices presents @childrensmn with coloring books and a donation to their #Cancer Kids Fund http://bit.ly/2vlTQxO
Monday, September 11, 2017 - 11:15am
Republic Services Minnesota employees were honored and humbled to present a donation check and educational recycling coloring books to @childrensmn in support of the organizations Cancer Kids Fund. #Community
The Kids Cancer Fund supports patients and families receiving treatment at Children's Minnesota, providing support services, special activities and much more in hopes of making a difficult journey easier.
"We are proud to work, live, and raise families in the areas we feel fortunate to serve.  To show our commitment to our nation's communities we regularly donate to special events, host community recycling events and waste disposal workships, and encourage our employees to donate their time towards worthy community projects," stated Jeff Marone, general manager of Republic Services. 
Learn more about Republic Services' commitment to the community here.
More From Republic Services
Wednesday, February 13, 2019 - 1:00pm
Monday, February 11, 2019 - 9:00am
Tuesday, January 15, 2019 - 4:00pm