SustainAbility: Companies Greenwashing Less and Less
Primary tabs
SustainAbility: Companies Greenwashing Less and Less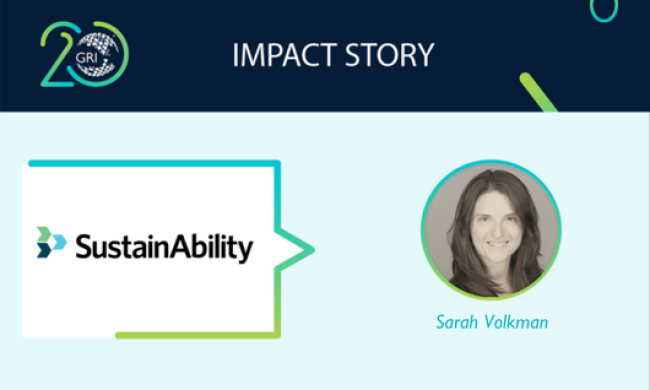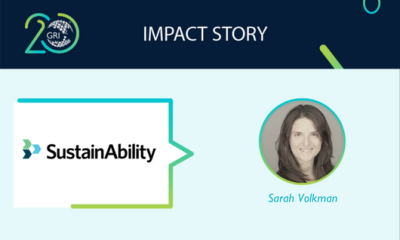 tweet me:
Q&A with consulting firm @SustAbility: "We have observed a shift away from greenwashing." #impactstory GRI_Secretariat http://bit.ly/2rCxDPl
Wednesday, January 24, 2018 - 1:00pm
Think tank and advisory firm SustainAbility focuses on helping companies lead the way to a sustainable economy. We spoke with Sarah Volkman, Manager at SustainAbility, who told us that integrating sustainability into core business strategy is the best way to drive change. 
The 100 page annual sustainability report has become something of a norm in CSR. While these reports are often chockfull of useful information, the length of the overall document can be a high hurdle for potential readers. How do you help your clients report in a more concise way and why is parsimony important?
Sustainability reporting is only as good as the sustainability strategy that the report describes. That's where SustainAbility offers support. We help companies take a step back to identify their most material sustainability issues, set ambitious goals and targets, and build a cohesive strategy that aligns with the company's business goals.
Once a company has a strong, purposeful sustainability strategy, vision and goals, it's much easier to keep a report focused on material issues, initiatives and performance and avoid the laundry list of unconnected programs that often make up a 100 page report.
There is a tension between the stripped down financial data and sustainability disclosures, which are often accompanied with a narrative. In your opinion, is this narrative information important and what do you think of efforts to boil sustainability reporting down into resembling financial reporting?
There will always need to be a balance between quantitative and qualitative content in a sustainability report. Sustainability reports meet the needs of various stakeholders, including customers and employees, who are best reached through narrative communications and storytelling, as well as investors, raters and rankers, who are most interested in seeing year-on-year performance metrics. Both are important, but what is most critical for transparency to be effective – for all stakeholders – is to have a clear strategy, set around goals and targets. 
  
What is your take on greenwashing – does this take place and to what degree? How do you help your clients not fall into this trap?
We have observed a shift away from greenwashing in recent years. As sustainability issues become more mainstream, customers and investors alike are more informed and sophisticated. They are asking tougher questions and have higher expectations about how sustainability topics are communicated. Combined with a rise of social media use, there is also higher reputational risk for companies that greenwash, as we have seen recently with public backlash against certain companies.
The Sustainable Development Goals (SDGs) are one area where we have been helping companies avoid new potential greenwashing pitfalls. We want to make sure companies that are aligning their strategies with the SDGs are really thinking about ways their companies impact the SDGs in both positive and negative ways. There is a risk that companies will only want to discuss their positive impacts, which could lessen the importance of the SDGs.
Click here to read the full impact story by SustainAbility and numerous other companies. For more sustainability news and updates from GRI, subscribe to the monthly newsletter.
More From GRI
Friday, January 4, 2019 - 9:05am
Friday, December 28, 2018 - 9:05am
Friday, December 21, 2018 - 9:05am