Through ServiceWorks Program, Citi Employee Finds the Perfect Opportunity to Serve
Primary tabs
Through ServiceWorks Program, Citi Employee Finds the Perfect Opportunity to Serve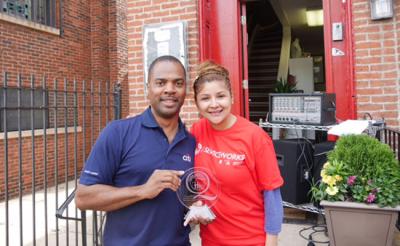 tweet me:
.@Citi employee Robert McGhee gives his time and talent as a volunteer mentor for #ServiceWorks: http://bit.ly/2ulk0Aq #DailyPointofLight
Thursday, August 3, 2017 - 10:30am
Robert McGhee, vice president of community development at Citi, has been a part of the Chicago banking community for more than two decades, with roles in retail banking, mortgage banking and community affairs. He supports the Citi Foundation's partnership with Points of Light and the Corporation for National and Community Service to bring a groundbreaking initiative, ServiceWorks, to help underserved youth in U.S. cities where the economic downturn has intensified their struggles.
ServiceWorks was launched in 2014 as part of the Citi Foundation's Pathways to Progress youth empowerment initiative, to harness community engagement and volunteer service to help underserved youth develop the skills they need to prepare for college and careers. Since then, the ServiceWorks program has expanded to 21 cities. In the past year alone, more than 9,000 youth and young adults ages 16 to 24 have participated nationwide.
Volunteer service is a key component of ServiceWorks, with each cohort completing at least one project by the end of their term – while learning college and job preparedness skills. Students are paired with corporate mentors who help them create service projects, such as reading to children and older adults, shoveling snow for neighbors physically unable to do so, school beautification and knitting hats for premature babies. Participants also receive one-on-one mentoring and valuable career advice from the corporate volunteers.
Robert McGhee has been one such role model and mentor for the students participating in the ServiceWorks program. We asked Robert to tell us more about his service story and dedication to volunteering.
Keywords:
Awards, Ratings & Rankings
| CSR Awards | Citi | Citi Foundation | Community Involvement | Corporate Social Responsibility | Daily Point of Light Award | Employee Engagement | Points of Light | Pro Bono | Responsible Business & Employee Engagement
More From Points of Light
Wednesday, June 20, 2018 - 7:00pm
Tuesday, June 19, 2018 - 1:30pm
Wednesday, April 18, 2018 - 8:00am