'We Were All Rosie the Riveter.'
Primary tabs
'We Were All Rosie the Riveter.'
Former Kohler associate shares her experience as a factory worker during World War II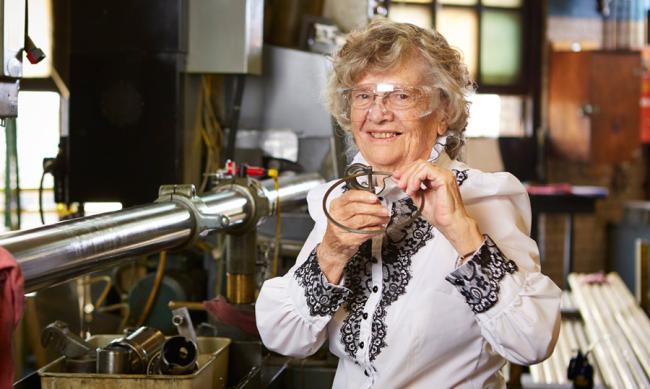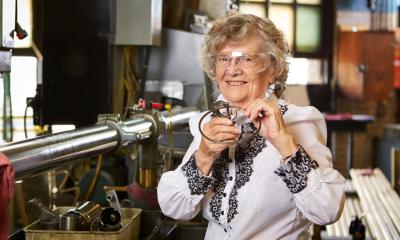 tweet me:
Former @Kohler associate shares her experience as a factory worker during World War II http://bit.ly/2spOQI4
Wednesday, July 12, 2017 - 9:45am
'We Were All Rosie the Riveter.'
In the midst of World War II, the makeup of the U.S. workforce changed. Companies refrained from producing their usual goods to focus on war production. For example, in the Brass Department at Kohler Co., associates made artillery shells, submarine torpedo tubes and aircraft controls in place of bathroom brass fittings. The associates making those items changed, too.
With men leaving for military service, women filled the factory worker void between 1940 and 1945. The event started a cultural evolution of the traditional role of females in the workplace, iconized by the image of "Rosie the Riveter," the "We Can Do It!" star of a government campaign to recruit women for wartime production.
Delores Hawe, a former Kohler associate during World War II, was one of those women.
When Kohler Co. recruited women to work in the factory, many, like Delores and her friends, only had experience as nannies, housekeepers and waitresses; pay was unreliable and work was tedious. Kohler Co. not only offered an attractive 50 cents/hour with a 10 cent bonus, but also equipped women with new skills.
"I had to take six weeks of training workshops before I could begin my position," Delores explained when she revisited the Brass building in May 2017.
Delores was introduced to a new world of wearing slacks and punching a clock. But she also discovered a supportive, encouraging environment that unveiled women's potential and allowed them to form lifelong bonds as they did their part to serve their country.
Walking the top floor of the building while holding her micrometer, a tool she used on the job, Delores recalled how she used it to measure different pieces and fittings for the airplanes. It was work that directly supported the war production effort, as well as her husband who was a pilot during the war.
"I felt very lucky to have this opportunity," she said.
In 1945, World War II ended and so did military manufacturing. Kohler Co. received the prestigious Navy E Award for exceptional performance in wartime production, due in large part to the efforts of women like Delores.
Although normal business operations resumed when men returned from war, the experience left an incomparable impression on the women who worked the factory floors. Reflecting on her time at Kohler Co., Delores affirmed, "We were all Rosie the Riveter."
More From Kohler Co.
Wednesday, September 12, 2018 - 8:05am
Tuesday, June 5, 2018 - 11:05am
Tuesday, March 6, 2018 - 11:10am