MetLife's Corporate Responsibility Shares Lessons from their Summer Intern
Primary tabs
MetLife's Corporate Responsibility Shares Lessons from their Summer Intern
Blog by Nandika Madgavkar via LinkedIn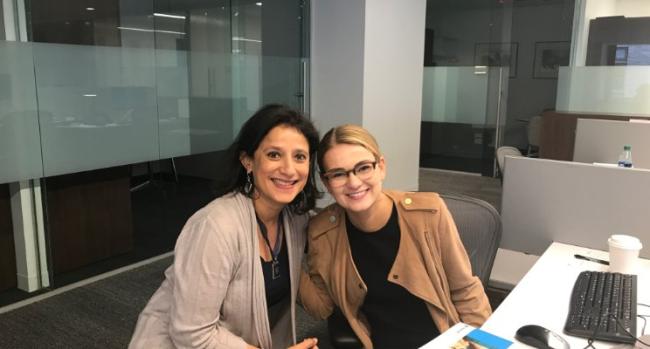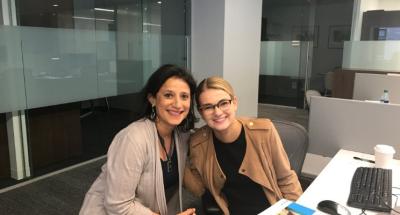 tweet me:
.@MetLife's Corporate Responsibility AVP @NandikaM shares lessons from her summer intern http://bit.ly/2w7aQZy
Tuesday, August 1, 2017 - 8:00am
I'm the hiring manager and I was curious whether my summer intern, a rising junior from Georgetown University, thought her internship was worth the effort. After all, moving to New York City in July and August [ think heat and humidity], to a big grungy city where crazy people are always yelling at something, and deafening sirens that make your hair stand on end, is no mean feat from the bucolic, academic grounds of one of our most prestigious schools.
Internships, so I have heard, provide young adults with a chance to learn and grow, both professionally and personally. Be challenged [hopefully] to try new things, hone new skills and approach obstacles in ways they hadn't before, especially if they choose to intern at a big company.
So I sat down for a chat with, Madeline Jones, a rising sophomore at Georgetown University, doing a double major in American Studies and Philosophy.
Nandika: Madeline, this is your very first internship. What were your expectations?
Madeline: Honestly, I had not really given it a lot of thought since I had never interned at a large company and this was my first. So, even though I had the job description and knew what you were looking for, it didn't become super clear till we met and I interviewed with you and the team.
Nandika: Do you think the way the job description is written for a summer internship can be improved?
Madeline: Yes! I definitely think there is room for improvement there. It makes the job more interesting if it details the projects that the intern is expected to work on. If the projects are bulleted, in reading them I know right away if I am the right fit, if I have the skills to be successful and if I can deliver successfully and exceed expectations.
Lesson #1: Internship postings need to be clear with projects well defined and delineated, especially for first-time interns.
Nandika: What has been your best project to date with the Corporate Responsibility team?
Madeline: I have loved the variety of projects that I have worked on for CSR and for the Foundation, but the one I loved the most was updating the website with content from the 2016 Global Impact Report. What this assignment allowed me to do was really read and digest the report [I read it at least three times!] and in that process I learned a lot about CSR, a subject I was not very familiar with. In re-doing the website, I had to figure out what to highlight, condense the content and in the condensing, versus cutting and pasting, I really got to the heart of what the company is trying to convey.
Lesson #2: Offer interns a variety of assignments so that they can experience them all but also find the one they can learn the most from. Give clear directions and trust that they will deliver!
Nandika: Does MetLife offer you the breadth of projects, the tools and the access you need to maximize your time with us?
Madeline: Yes! I have talked to other interns, and we've all been happy with the breadth and variety of projects that we've been given, with access to not only our direct managers but others across the department. But one thing which I think would be nice to have is a company-wide intern network where we would get to meet interns from other departments. For my generation peer-to-peer learning is so much easier than speaking with senior managers or heads of departments. It's more relaxed; we can ask questions about the functions and get really honest answers. This sharing of information is more open, transparent and informal.
Lesson #3: Interns, perhaps with the help of their managers, should build a peer-to-peer alumni network. This will allow interns to keep in touch with each other, learn about opportunities at other companies as they do their rotations and hopefully, help them build a referral system when they are finally out of school looking for those elusive jobs!
Nandika: What do you think about the culture at MetLife? [Leading question admittedly]
Madeline: Your headquarters at 200 Park is so amazing. The building lends itself to a collaborative and cheerful culture. People are helpful and not stuffy at all. Since I really don't have anything to compare my experience with, I hope I am as pleasantly surprised by my experience here this summer, as I will be next year wherever I go.
Thank you Madeline for your time and your insights!
PostScript: I've always believed internships are important. It is a way for companies to build talent, managers to mentor and guide, and for college students to learn to put their best foot forward, and hopefully build the soft skills they need to make it in the real world.
Some resources for internships:
MetLife's University Programs: https://jobs.metlife.com/content/ActuarialStudentProgram/?locale=en_US
The Opportunity Network: https://opportunitynetwork.org/
REACH: Internship program at LinkedIn: https://careers.linkedin.com/reach/AboutReach
More From MetLife Inc.
Monday, September 24, 2018 - 10:00am
Friday, September 21, 2018 - 9:05am
Monday, September 17, 2018 - 8:45am